What is a "bomboniera?"
Shortest answer: it's a party favor.
Longer answer: it's a little packet, often wrapped in tulle, containing "five sugared almonds for each guest to eat / to remind us that life is both bitter and sweet." They're common at Italian-American (and I hear tell, other Mediterranean) weddings.
When I learned about the meaning behind the tradition, I became utterly taken with them. "Into every life some rain must fall" but make it candy. On your happy day, share with your loved ones a small token of appreciation that says, Thank you for being here, life is a mixed bag, have a little something.
And what I have to share is nothing if not a mixed bag of bitter and sweet – headlines, events, anniversaries and more.
Thank you for being here, have a little something.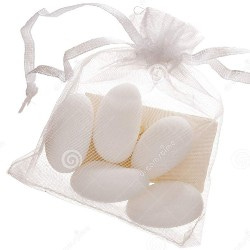 What's included?
In this bomboniera, you can expect:
Headlines from across the country on topics related to reproductive health, reproductive and gender justice, whatever's moving in news.

A regular listing of anniversaries and awareness days from across the progressive movement.
A few caveats: because time and capacity, I can't promise to track every state bill or issue out there. Also because #selfcare, I generally don't include opposition headlines.
Sharing is caring
I hope this newsletter is a useful, interesting resource. If you agree, please take a moment to subscribe and share with your networks.

Subscribe to Bomboniera
People
Rachel Perrone
Comms consultant focusing on repro, economic, gender justice, from planning to press lists. Past lives include @NWLC, @ACLU, @NARAL. I love your podcast.